Klaudia Ringneck Doves
Welcome to a personal website about my Ringneck doves (Streptopelia risoria). Take some time, look around and enjoy the pictures. I raise and breed Ringneck doves in a variety of colors and feather types, especially the European color mutations and combinations. I am interested in genetics of ringnecks.

Feel free to contact me with any questions you many have, thanks for looking.
Klaudia
---
Few people in the world speak hungarian, so I prepared this english version of my hungarian website, about my ringneck doves.
6 years ago, I made the first Hungarian Ringneck dove website (www.kacagogerle.freewb.hu) to help the Hungarian breeders with useful information. I translated English, Dutch and French articles and information from websites about Ringneck doves. My website present photos about color mutations, color combinations and the new feather types.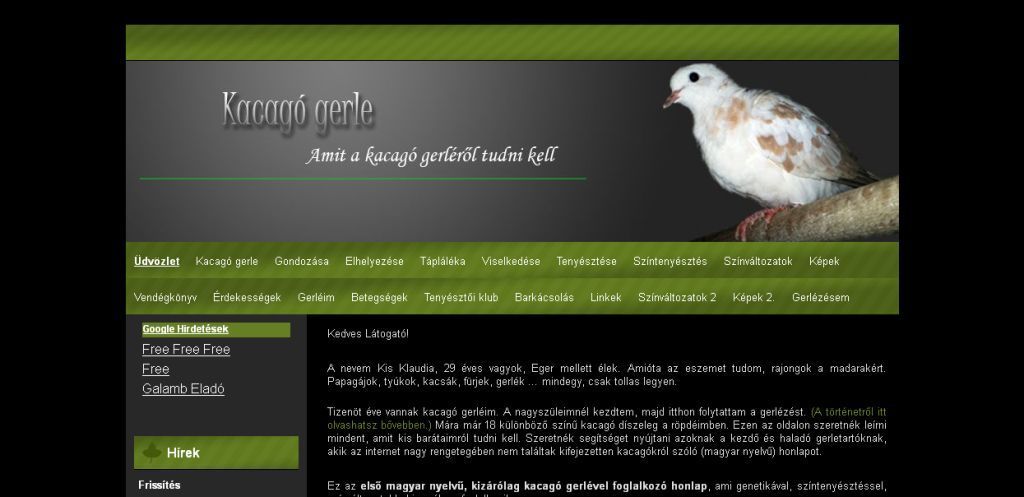 My hungarian ringneck dove page
Ringneck dove = kacagó gerle
barbary dove, hrdlička chichotavá, tórtola de collar, Hauslachtaube, Tourterelle rieuse, turturele,

---